𝑱𝒊𝒏𝒈𝒍𝒆 𝒃𝒆𝒍𝒍𝒔, 𝒋𝒊𝒏𝒈𝒍𝒆 𝒃𝒆𝒍𝒍𝒔
𝑱𝒊𝒏𝒈𝒍𝒆 𝒂𝒍𝒍 𝒕𝒉𝒆 𝒘𝒂𝒚
𝗖𝗛𝗥𝗜𝗦𝗧𝗠𝗔𝗦 𝗜𝗦 𝗖𝗢𝗠𝗜𝗡𝗚
LET'S DRESS UP RED AND GET 15% OFF ON LUXURY HON MAGURO SASHIMI MORIAWASE FROM 16 - 22/12/2019
Tuna belly is considered as a high quality nutritious food that Japanese people especially love, this is also a fish that brings high economic value for Japanese
Tuna itself offers the best quality in the winter, depending on the type of taste and texture experience you're looking for, tuna has several different options. Let's enjoy 3 difffent parts of the fish we highly recommend:

1. Otoro
The first part of the tuna to explore is otoro. This is the most desirable part from the inside of the fish's belly. Because it is the fattiest part of the fish, it practically melts in your mouth. It also lends sashimi a sweeter taste. Because of its rich and highly sought-after nature, otoro can be a bit more expensive than other parts of the fish – but certainly worth every penny.
2. Chutoro
The next part of the fish to learn is chutoro. This is a perfect blend of otoro (above) and akami (described below). Because it straddles both types of tuna, it provides both a meaty and a fatty texture for a real celebration in your mouth.
3. Akami
Finally, we get to the most common and frequently-used part of the fish: akami. This part is meaty and red, found most often in any Japanese restaurants.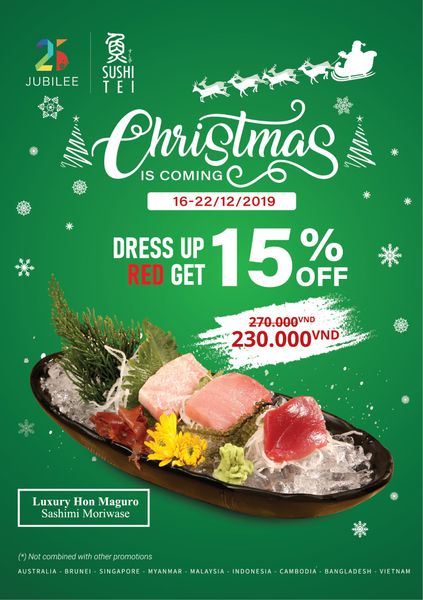 Enjoy more winter specialties at the latest Winter Special menu at: http://www.sushiteivietnam.com/collections/seasonal-menu-1
☎️ Contact us for reservation now
𝗦𝗨𝗦𝗛𝗜 𝗧𝗘𝗜 - 𝗔 𝗚𝗢𝗢𝗗 𝗗𝗘𝗔𝗟 𝗢𝗙 𝗦𝗨𝗦𝗛𝗜
📍 Outlet 1: Sushi Tei 200A Ly Tu Trong St, District 1, HCMC
📞 Phone: (028) 6284 1188
📍 Outlet 2: Sushi Tei 26 Cao Thang St, District 3, HCMC
📞 Phone: (028) 6673 0088
🌐 www.sushiteivietnam.com